Boyd Jensen
Boyd Jensen received a Bachelor's Degree from CSUS, with a major in Anthropology and a minor in Journalism. He earned a Master's Degree from CSUS, majoring in Art, History and Theory.
Boyd is currently retired, but worked for the Aerojet-General Corporation as a Photographer-Motion Analyst, taking high speed movies of rocket tests (1957-1969). He spent the majority of his career as a Graphic Artist/Photographer for KOVR-TV, Sacramento (1969-1987). Boyd has taught numerous photography courses to thousands of students at Sacramento City College, CSUS, and Cosumnes River College (1980-2001).
Boyd Jensen's artistic body of work over a 50 year career includes: "Begin With Love", a slide show for the Church of Jesus Christ of Latter-day Saints, the first production from a stake of the Church to be distributed worldwide. "The Californias" for the California Department of Tourism; used throughout the world to increase tourism in California. "Sacramento Illustrated" a 24 projector slide show depicting the history of Sacramento; shown for three years in the Old Eagle Theater.
Boyd produced multi-media productions for clients such as Sears Roebuck, Primary Children's Hospital, Los Rios Community College District and the United Way. His Company, Jensen and Price, did the advertising for the Sacramento Kings for five years.
Sacramento Advertising Club Awards include a Gold Award for best billboard (1983); Gold Award, Best Still Photography (1984); Gold Award, Best Self Promotion, "Newswatch 13 Talks To You", News Mini-series (1984); and Silver Award, Magazine Advertising, "Newswatch 13" (1984)
Boyd and his late wife, Diane, were married for over 50 years and have 7 children and 34 grandchildren.
Bruce Anderson
Bruce F. Anderson was born in Glendale, California, and was raised in San Gabriel, California. Bruce is a third generation Californian and a graduate of Brigham Young University in 1976 with a B.A degree in Political Science and a minor in International Relations. Married to Nancy Ashby, in 1974, they are the parents of four children and 8 grandchildren.
He is currently Sales Manager of A4 Promotions & Incentives in Sacramento, California. A4 Promotions is a nationally ranked promotional products, premium and advertising specialty firm. Bruce has served on various community boards and has been involved in various, public affairs and political activities over the last thirty years. Bruce has a passion for California History and enjoys working on Family History in his spare time.
Dennis Amaral
Dennis Amaral grew up in the San Francisco Bay area and is a third generation native Californian. He graduated from Washington High School in Fremont then attended Merritt College in Oakland, California and the University of California in Berkeley, California.
Dennis has always been an avid reader and researcher of local history his specialty being the pre and post Gold Rush era in California and Nevada. During his research he has collected and read numerous historical books, journals, records and documents pertaining to this era of time.
Utilizing this research he is currently finishing a driving guide and historical book on the Mormon Emigrant Trail in El Dorado County, which will be finished this year.
He and his wife, Antonia, devote time as volunteer docents in Coloma, Old Town Sacramento, Sutter's Fort, Clarksville, Colombia, Genoa Nevada and Virginia City Nevada. In addition to these duties they also participate in presentations given for local historical groups, churches and schools. Often times they use a team of horses and historic wagons as aids in their presentations as well as bringing artifacts and being attired in period correct clothing.
He currently resides in Pilot Hill, California with his lovely wife, children and some grandchildren. Some of the organizations and recognitions that he has received are listed here.
Served as a Shingle Springs / Cameron Park Chamber of Commerce Ambassador for 5 years.
Served as the chairperson on the board of directors and created the ad campaign for the 'Live In El Dorado County' foundation.
Recipient of the Chamber of Commerce's "Outstanding Business Award" in 2001.
Recipient of the "James N. Wilson Outstanding Business" award in 2002.
Recipient of the "Outstanding Businessman's" award from the United States Republican Committee in 2003.
Recipient of "The Larry Cameron Outstanding Public Service Award" in 2003.
Recipient of the "Realtor / Affiliate Citizen Of The Year" award in 2005 from the El Dorado County Association Of Realtors.
Recipient of the Chamber of Commerce's "Outstanding Business Award" in 2006.
Recipient of the "American Spirit Award" from U.S. Sen. John Ensign in 2006.
Served on the Gold Discovery Park Association Board of Directors from 2005 until 2008.as a board member and Vice President.
Became a Docent in Coloma in 2003 and is still active in presenting and preserving living history in Coloma, Columbia, Sutter's Fort, Old Town Sacramento, Genoa, Nevada, and Virginia City Nevada.
Served as the assistant to the director for the Northern California region of the Sierra Nevada Mormon Pioneers Living History organization from 2003 until present.
Is a member of the Clarksville Historical Society
Served as chairman of the board of directors for the 'Debbie Amaral Memorial Scholarship Foundation' from 2005 until present.
Sandra Lunceford
Sandra Lunceford spent her childhood traveling between Air Force base locations in America and abroad. Following an early graduation from West Linn High School, she found herself at Brigham Young University smitten by David Lunceford, a gentlemen who became her husband in 1975. In 1987 David's occupation necessitated a move with their four children from Utah to the great State of California.
Taking advantage of the relatively low cost of education, she graduated cum laude from California State University Sacramento in 1994 and began work at Mather Air Force Base in environmental community relations. She later earned her Master's in Public Policy and Administration in 2002 and works part-time as an environmental consultant. Sandra's Master's thesis walks hand in hand with California Gold Rush history, as it focuses on cleaning up millions of pounds of mercury –California's Gold Rush legacy.
Sandra's interest in California history flourished as a member of the LDS State Living History Committee and as a volunteer with the Folsom History Museum . Fascinating intersections between California and LDS history became apparent, fun to share, and elicited a desire for further research. Her research lead to her introduction to Ellen Rosa, a member of the Thomas Rhoads family. Mrs. Rosa helped identify yet another invaluable piece of California's missing history – the location of Rhoads Diggings – right in Sandra's home town – Folsom! Together, along with Folsom City, California Pioneer Heritage Foundation, Daughters of Utah Pioneers, Folsom Historical Society, the Church of Jesus Christ of Latter-day Saints, and the Friends of Folsom Parkway, we are working at memorializing this new found location.
Currently Sandra coordinates bus tours for the Foundation and invites anyone interested in putting together or joining an existing tour to notify her at the Foundation. Folks are also invited to identify their area of interest and/or coordinate tours within and out of state historical locations. She also handles all of the donation communications and records for the foundation.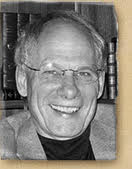 Roger Robin Ekins
Roger Robin Ekins received his Honors B.A. in English and a Master's in creative writing from the University of Utah before completing his Ph.D. in Higher Education through The Union Graduate School.
Ekins came to northern California in 1986 as Dean of Instruction at Butte College, in Oroville. There he also served as Director of the Honors Program and Faculty Advisor to the college's honors society before retiring in 2008 as Faculty Emeritus. While at Butte College he also served as the President of the California Humanities Association.
Previously, Roger both taught and served in administrative positions at the University of Maine at Augusta, the University of Redlands, and the College of Staten Island, City University of New York.
Among his publications two are of particular interest to California history buffs. Defending Zion: George Q. Cannon and the California Mormon Newspaper Wars of 1856-1857 was published as volume 5 in the Kingdom in the West series by The Arthur H. Clark Company in 2002. Defending Zion was selected as that year's "Best Documentary History" by the Mormon History Association. In July of 2016, Ekins published "William Brown Ide: Mormon President of the Republic of California" in the journal Mormon Historical Studies. He also wrote and helped produce a brief documentary video on Ide which can be found on YouTube.
Roger resides in the town of Paradise, where he has served on the Editorial Board of The Paradise Post since 2001. He and his wife, Helen, are co-authors of the locally best-selling hiking guide, The Flumes and Trails of Paradise: Hiking through History on the Ridge.
Roberta Douglass Tanner
Roberta has always had a love for pioneer era stories. At family gatherings, when the children were sent out to play, she chose to stay inside and listen to the stories her great aunt would tell. Though history was never a favored subject in school, the view of history as a collection of stories became a strong motivation for learning more about her pioneer ancestors. Her mother instilled a love of genealogy through story-telling. And now history is the main focus of everything in which Roberta is involved. She loves to find new stories and shares them at every opportunity.
In 1997, Roberta joined Daughters of Utah Pioneers whose objective is to teach an appreciation for pioneer contributions. She has served in her local camp and on the Sacramento Company Board in several offices including President. She is currently serving as northern California Regional Representative on the International DUP Board. She also serves locally as the Sloughhouse Pioneer Cemetery Co-Chairman. The cemetery is the oldest pioneer cemetery in northern California and is the final resting place of some of the original settlers of Sacramento County. DUP has owned the cemetery for over 40 years when it was deeded by descendants of the Rhoads family. For the past four years, Roberta has been involved in the maintenance and upkeep of the cemetery; the restoration of over 40 tombstones; and overseeing the many Eagle Scout projects that help in the restoration process. She drew a map to identify tombstone locations and wrote the biographical sketches used during cemetery tours.
Roberta also teaches local California pioneer history as part of a living history program sponsored by the Elk Grove Historical Society. Since 2008, she has been a docent at the Rhoads School House located in Elk Grove Park just south of Sacramento. By appointment, third grade students spend a day at the one-room school living and learning as if it were 1894 with Roberta as the school marm. Recently, Roberta was appointed Director of the School and is on the board of the Elk Grove Historical Society.
Several years ago, the California Pioneer Heritage Foundation produced a movie called "More Precious Than Gold" about the contributions the Mormon Battalion made to the settlement of California. Roberta was one of the contributing authors of the companion workbook which 4th grade students use as they study California history.
Outside of DUP, she has 6 amazing children, 9 adorable grandchildren and a wonderful husband who supports her in all her hobbies. She and her husband met at the University of Utah where she graduated from the College of Business in Accounting.
Russ Thayne
With a undergrad degree in Psychology and a Master's Degree in Real Estate Development, Russ has had an interesting career in an almost related field of marketing.
As CEO of the marketing company, Bedrock Markets, Inc., Mr. Thayne has led his marketing staff in serving the heating and air conditioning businesses throughout the lower 48 states for the past 16 years.
Russ has served in Boy Scouts as a Scoutmaster, Troop Committee Chairman, Assistant District Commissioner and now serves on the Board of Directors for the Golden Empire Council. He has also served in many church callings, mostly with youth – including Scouts, young men, bishop and as a counselor in the stake presidency.
He and his wife are parents of 5 children, and 7 grandchildren… so far.
Larry F. Brasher
Larry F. Brasher was born in Salt Lake City, Utah. Following high school he served a mission in Finland. He received a BA in business management from the University of Utah in 1972 and a Juris Doctor from the same university in 1975. Beginning in the 4th grade and throughout his school years Larry studied Russian. While attending college he served in the 142nd Military Intelligence Linguist Company of the Utah National Guard.
In 1970 Larry married Anne Hansen in the Salt Lake Temple. They have seven children and e 18 grandchildren From 2003-2005 Anne and Larry served a mission together in Kiev, Ukraine and Vladivostok, Russia, where Larry also served as the district president.
While in school Larry began working for the Salt Lake Auto Auction, a family business started by his father in 1949. Following law school he decided to continue in the auto auction business. In 1978, they acquired the Sacramento Auto Auction. Larry and Anne relocated to California. Subsequently the family acquired four more auto auctions in Eugene, Oregon; Portland, Oregon; Reno, Nevada; and Boise, Idaho. Larry served as CEO of the parent organization, West Coast Auto Auctions until 2003. He continues to serve on the Board of Directors. He is also a past president of the National Auto Auction Association.
Larry serves on the Board of Directors of the California Pioneer History Foundation and the Sacramento Chapter of the Freedoms Foundation of Valley Forge.