Inventory of  California LDS Historic Sites 
Compiled as of March 1, 2001
by S. Dennis Holland,
Public Affairs Director
SAN FRANCISCO
(Yerba Buena) is the oldest Mormon settlement in the West. The tiny Mexican mission village of Yerba Buena more than doubled in size and became an instant tent city when 200-300 Mormon pioneers arrived via the Ship Brooklyn July 31,1846.
"California Star" Newspaper, S. F. first newspaper printed by Sam Brannan, Jan., 9,1847…Marker is located in sidewalk at 743 Washington St….E.Clampus Vitus Marker 1937.
Ina Coolbrith Park…Marker is named after the poet above and is located at the corner of Taylor and Vallejo Streets in San Francisco. Ina Coolbrith was born Josephine Donna Smith, the niece of the Mormon prophet Joseph Smith and daughter of his younger brother, Don Carlos. She is believed to be the first white child to enter California by way of the Beckwourth Pass in the north. She was the first public librarian for the City of Oakland from 1875 to 1895. She inspired Jack London to write. She then went to San Francisco as librarian for the Bohemian Club. She was associate editor of the Overland Monthly printed in that city by the noted author, Bret Harte. In 1919 the California State Legislature name her "The Loved Laurel Crowned Poet of California.
Portsmouth Plaza, 1st public school by LDS on SW corner 1847..located in Portsmouth Square on Kearny between Clay & Washington St….CA Historic Site. Marker is on the Washington St. side of the Square. The first Public School House was built here by the Mormons December 1847 and officially opened April 3, 1848.
Ship Brooklyn Landing Site…….Marker is located at N.E. corner of Broadway & Battery St…….DUP marker placed July 1940. Brannan St…..in San Francisco is named after Sam Brannan. At one time Sam Brannan owned most of the property south of this street.
Colonel Isaac Trumbo home…Place where Pres. Wilford Woodruff died Sept. 2, 1898. It is located at the south side of Sutter and Octavia St.(1533 Sutter St.) The plaque is located on a post on the southwest corner.
Philo T. Fransworth Plaque…..This plaque is dedicated to the Mormon inventor of the television and is located on the northwest corner of Sansome and Green St(203 Green St.) In a simple laboratory at this location, Philo T. Farnsworth, a Mormon pioneer in electronics invented and patented first operational all electric television system on Sept. 7, 1927.
ALAMEDA COUNTY
1st LDS Chapel in CA & School House, built by John Homer of Ship Brooklyn. Marker is located in front of the LDS Centerville Chapel at comer of Temple Way & Peralta Blvd. in Fremont…DUP Marker.
William Yates Horner Home…built by John Horner for his brother, William…victorian home at NW comer of Driscoll & Washington in Fremont…on National Register, no monument.
Irvington Cemetery…burial site for many of the Ship Brooklyn saints….located at Chapel & Irvington in Fremont..monument proposed.
Mormon Pioneer Marker, monument honoring LDS pioneers in the area….located in the LDS chapel parking lot at Walnut & Guardino Ave in Fremont…DUP Marker.
John Conrad Nagle Adobe…member of Ship Brooklyn, site of many early day celebrations…Located near Walnut Ave. & Gallaudet Ave in Fremont….no monument.
Jos. & Jurisa Nichols Home (1850)…members of Ship Brooklyn..one of the oldest homes left in the state., located at the back of City of Fremont Water Dist. at Gilbert Ave & Shinn St. in Fremont…needs restoration and monument.
Stivers Lagoon …original location of Simeon Stivers (of Ship Brooklyn)612 acre farm(now called Lake Elizabeth)…located at Stevenson Blvd. & Paseo Padre Parkway in Fremont….monument planned for summer of 2001. Mowry Ave., one of the main streets in Fremont, is named after Origin Mowry of the Ship Brooklyn.
OAKLAND
1st Current Day Chapel in Northern California…built in 1923, the Oakland chapel is currently owned by the Evergreen Missionary Baptist Church…located on Moss Ave. in Oakland….no marker.
RED BLUFF
William B. Ide Adobe…original adobe house built by William B. Ide about 1850..one of earliest LDS to come to Calif, in 1845…helped organized the Bear Flag revolt and was named first President of the California Republic, June 14, 1846…Marker located in Wm. B. Ide Adobe State Historical Park, 3040 Adobe Rd….l.5 miles No. of Red Bluff..Calif. Registered Historical Landmark.
General William B. Ide Residence.home of William B. Ide…description and location as listed under Alameda County #6.
William B. Ide …monument honoring him…Monroeville Ghost Town Marker…located at Hiway 45 at mouth of Stony Creek.
Mormon Basin..on the Sacramento River across from Moroni Rd. in Colusa County.
YUBA CITY
Sam Brannan Park Marker…dedicated to Sam Brannan, leader of Ship Brooklyn saints, founder of Yuba City, first California millionaire, one of chief financeers of Central Pacific Railroad, founder of first Calif, commercial bank. E. Clampus Vitus marker located in Yuba City at Sam Brannan Park on Gray Ave., a few blocks south of Hiway 20 (April 1963).
MARYSVILLE
Marysville is named after Mary Murphy, the 14 yr. old daughter of Lavina Murphy, a baptized Mormon with the Donner Party.
Mary Murphy Covillaud School.a large mural of Mary Murphy Covillaud is mounted high up on an exterior wall near the main entrance of the school in Marysville.
Marysville Buttes (now called Sutter Buttes)..were named after LDS decendant Mary Murphy Johnson.
Johnson's Ranch…the first settlement in California after crossing the Sierras over the California Trail (Overland Emigrant Trail)…it was here that the Thomas Rhoades family were staying when the first remnants of the Donner Party came in. It was from here that John and Daniel Rhoades led the rescue party of seven to retrieve the survivors….marker located in Tomita Park on Front St. in downtown Wheatland between Main and 4th st…..Overland Emigrant Trail (Johnson's Crossing) marker is located on the south shoulder of Spenceville Rd, 3 miles east of Wheatland.
GRIDLEY
Settled by LDS and numerous locations in the area being researched at present.
CALISTOGA
Calistoga City Hall…originally held the Bedlam Opera House (named after Sam Brannan's niece)…burned to the ground at turn of the century & rebuilt in 1902, now used as City of Calistoga's legislative office building…El Clampus Vitus marker located at 1232 Washington St. in Calistoga on the front wall of City Hall (1986).
Calistoga Depot…built by Sam Brannan in 1868 for the Napa Valley Railroad. Second oldest remaining railroad station in California …California Historical Landmark located at 1458 Lincoln Ave. on wall of depot (1979).
Sam Brannan….Dreamer, promoter, prince of Californiacs..E Clampus Vitus marker is located at 1712 Lincoln Ave. in grass island between driveways of Indian Springs Resort Spa in Calistoga (1954).
Sam Brannan Center…Brannan gave the town it's name of Calistoga and imported the first grape vines to the area…built the Hot Springs Hotel in 1860 (one of the original cottages is preserved in front of the Sharpsteen Museum and another still in use near the Indian Springs Resort Spa)….marker to Sam Brannan located at 1311 Washington St. in Calistoga..California Historical Landmark (1979).
Sam Brannan Cottage…second Sam Brannan cottage on Wapoo Ave…national registry of historical landmarks.
Sam Brannan Storesite of store located at 203 Wapoo Ave…California Registered Landmark.
STOCKTON
New Hope Colony Location (later named Stanislaus City…colony settled under direction of Sam Brannan by members of Ship Brooklyn…first wheat grown in the state..originally 3 log houses, sawmill and ferry across Stanislaus-located on north bank of Stanislaus River, about 1.5 miles Northeast of confluence of Stanislaus & San Joaquin Rivers & southwest of Caswell State Park….marker is located 8 miles away in Ripon City Park at 4th & Locust St.
Comet (Sail Launch)…First known sail launch to ascend San Joaquin River from San Francisco landed in 1846 carrying 20 LDS pioneers from Ship Brooklyn to start New Hope Colony…marker is located on northwest shoulder of Manthey Rd.(frontage rd. north of 1-5, just north of entrance to Mossdale Landing County Park—Calif. Registered Landmark.
Mormon Channel—A portion of the Stockton waterway in Stockton Mormon Avenue..One of the four major avenues running east and west toward the southern edge of the city. Mormon Levee…A levee protecting the southern flank of the village of Stockton. Mormon Slough…Ran alongside Mormon Avenue in the southern part of town. It is crossed by Hiway 99 just north of the Hiway 4 interchange.
SACRAMENTO
Sam Brannan House…rebuilt as a brick building in 1953.. Brannan was responsible for a store near Sutter's Fort in 1849 and much of the construction in Old Town Sacramento including City Hotel and Brooklyn Hotel….located at 112 J. St in Old Sacramento
Sutter's Fort….where many of the Mormon Battalion members were employed during the winter of 1847-48-located at 27th and L St. in Sacramento-California State Historical Site. Possible site for monument honoring MB workers.
FOLSOM AREA
Mormon Island..also known as Lower Mines, Lower Diggins or Mormon Diggings North..first gold camp after discovery at Sutter's mill (1848)-actually started die gold rush of 1849…(presently under the water of Folsom Lake)California Historical Landmark is in the Dyke 8 State Park Picnic Area, north of E. Natoma St. between Blue Ravine Rd. & Folsom Dam Rd in Folsom.(1981)
Mormon Island Settlement—on the site of gold discovery by Sidney W. Willis and Wilford Hudson, members of the Mormon Battalion. Town was destroyed by fire in 1856. Located 1/2 mile east of marker, the location is now under Folsom Lake as of 1955…DUP marker is located at Vista Point parking area southeast of Folsom Dam on Folsom Dam Rd.(1957).
Mormon Island Cemetery …was relocated at the time Folsom Lake was filled (1955) to it's present location, south on Shadowfax Lane about 1 mile from E. Natoma St. in Folsom.
Sutter"s Grist Mill…the flour mill built by the Mormon Battalion workers in the winter of 1847-48…1ocated at Brighton (6 Mile House), 6 miles east of Sutter's Fort…exact location being researched…..No marker.
COLOMA
Mormon Cabin…cabin built and occupied by the Mormon Battalion workers who built the sawmill in 1847-48….replica cabin built for centennial in 1948 by Sacramento Stake and Placerville Branch and donated to State of California. It was not maintained and the current cabin, typical of the time period, was donated by the State Forest Service. It was moved and reconstructed by Sons of Utah Pioneers in 1971…1ocated next to sawmill in State Park.Marshall Gold Discovery State Historic Park Museum Shows the video "More Precious Than Gold" regularly in their theater.Tragedy Spring Engraved Tree Trunk …carved next to the grave of Ezra Allen, Daniel Browett, and Henderson Cox on the Mormon Emigrant Trail is located in park museum lobby.Ezra Allen Double Gold Pouch (replica)…found at Tragedy Spring is on display next to the tree trunk in the museum lobby.
Nathan Hawk Grave Site… This grave is of this Mormon Battalion member located in the Coloma Cemetery and has a marker erected by the SUP and DUP in May 1977.
Sutter's Mill…a replica of the sawmill built by 6 of the Mormon Battalion men, who were on site and recorded the discovery of gold by James Marshall, Jan. 24,1848. Located in the Marshall Gold Discovery State Historic Park in Coloma, this replica was rebuilt by the El Dorado County Historical Society in the late 1960's.
MOTHER LODE GOLD RUSH AREA
Brown's Settlement—one of Orrin Porter Rockwell's (Alias James B. Brown while in No. California)Saloon/Roadhouse…used for preaching in the early period by LDS Missionaries..located at Alder Creek, 2 miles south of Folsom.
Diamond Springs…named by early LDS resident, George W. Sparks(or possibly John Roberds)because of the "diamond" crystals found while clearing out the spring….located 3 miles south of Placerville…inhabited by numerous LDS during Gold Rush.
Dry Town…inhabited by numerous LDS and used as an area of preaching by early LDS missionaries…located on Dry Creek in what is now Amador County.
El Adobe De Los Robles Rancho…is the second oldest restored adobe in San Joaquin Valley, built in 1856. It was built by Thomas Rhoades' son, Daniel Rhodes, who helped rescue the Donner Party. Located at the southwest corner of intersection of Hiway 41 and Lacy Blvd., 3 miles north of Lemoore,Calif. Registered Historic Landmark.
Greenwood (Louisville)..settled by LDS Hiram Gates and mountain man Caleb Greenwood..got it's name from the son of Louis B. Myers, who is suppose to be the first white child bom in present day El Dorado County..located between Georgetown and Auburn Ravine.
Hangtown (Dry Diggins, PlacerviIle)…Ziba Peterson(mentioned in the Doctrine & Covenants) resided here as early as Nov. 1848….a center of activity in the area…probably the largest popluation of Mormons during the gold rush…visited often by Apostles of the day and missionaries..Mormon Gold Missionary captain, James M. Hake, 1849-50 was killed here in 1850.
Logtown…located 2 miles south of Mud Springs (El Dorado)…3% of population was LDS in 1850 census.
McDowellsville (McDowell Hill)…probably had the largest per capita of LDS in the area with 20% in the 1850 census…located just below Salmon Falls on the South Fork of the American River. Now under Folsom Lake.
Mormon Bar (North)..most of the Mormon population had left his area by the 1850 census…located between Beals and Laceys Bars on the North Fork of the American River at the Placer and El Dorado County line (near present day Auburn).
Mormon Bar (South)…Mormons discovered gold here in 1848….Apostles Lyman and Rich visited in May of 1850…1ocated in the southern mines, 2 miles downstream from present day Mariposa.
Mormon Battalion Monument Marker..this is a monument erected by the LDS Sonora 1st & 2nd Wards in 1995..it is located southeast of Columbia on the north shoulder of Hiway 49 near Mormon Creek at a large dirt turnout.
Mormon Creek…located in Tuolumne County.
Mormon Gulch (North) (Hudson Gulch)…probably named after Wilford Hudson of the Mormon Battalion who discovered gold there is 1849…some dispute as to whether it was located on Mameluke Hill just north of Georgetown or in Oregon Canyon.
Mormon Gulch (South) (Mormon Diggins South)…may also have been known as Mormonitos…Apostles Lyman and Rich visited here in May 1850…1ocated in Tuolumne County adjacent to Tuttletown, northwest of Sonora and a few miles west of historic gold town of Columbia.
Mormon Hill (Orr's Salmon Falls, New York Ravine)..a favorite stopping place for early missionaries in the area…located between Mormon Island and Salmon Falls (presently under Folsom Lake).
Mormon Ravine (Long Valley..Auburn)..Apostles Lyman and Rich visited the area in 1850..located on the Sacramento Road, 2 miles west of Auburn.
Mormon Slough (Mormon Levee, Mormon Channel, Stockton)..technically not in the gold fields, Stockton was the main supply point for the Southern Mines…it is believed that several Mormons transported supplies from San Francisco to the Stanislaus River up a channel of the San Joaquin and later operated a ferry in the area during the period.
Mormon Tavern (Lathrop Tavern)..owned by LDS Asahel A. Lathrop-Apostles Lyman and Rich used this as a base of operations during their 1850 visit-meetings with Jefferson Hunt and Orrin Porter Rockwell took place here concerning the establishment of the southern colony of San Bernardino…It became a major stagecoach stop..located near Clarksville (just east of El Dorado Hills Golf Course near Sacramento-Placerville freeway took out this location…marker on power company property alongside freeway.
Rough & Ready (Nevada City)..numerous LDS were present from 1849 to 1857..several baptisms took place in Rock Creek, located 4 miles north…William H. Folsom who was one of the builders of the Nauvoo Temple and Manti Temple, and later an architect on the Salt Lake Temple was living and mining here in 1850.
Newton (New Town)…was settled by the Mormon Battalion men who were assembling to go to Utah in June 1848. They built a corral and mined there while they waited for the group to assemble. Several LDS lived there after this period of time…located on the south side of Weber Creek about 3 miles east of Placerville.
Pilot Hill., the 1850 census shows that between 7% and 8% of the population were Mormon…located on the north side of Pilot Hill, halfway between the South Fork and Middle Fork of the American River.
Pleasant Hill (Frenchtown)…numerous LDS lived here and was a base of operations for early LDS missionaries…numerous baptisms took place here.it was the northern gathering spot for the area when the saints gathered in July 1857 to return and defend Utah…located 2 miles south of Shingle Springs on the Consumnes Road.
Pleasant Valley (Mormon CorraI)….the area used to assemble the Mormon Battalion group in June 1848 for their trip to Valley of Great Salt Lake, located on the North Fork of the Consumnes River and Weber Creek, about 10 miles east of Placerville….Oregon Trail railroad rail T-marker is located southwest of the intersection of Pleasant Valley Rd. and Stark's Grade Rd. in Pleasant Valley.
Rhodes Diggings (El Dorado)…one of the numerous mines of Thomas Rhodes(Rhoads) that provided the gold for the Salt Lake Mint…located between Placerville and Diamond Springs.
Rhodes Diggings (Sacramento)…another one of Thomas Rhodes(Rhoads) mines that provided the gold for the Salt Lake Mint—located on Alder Creek, 3 miles southeast of Folsom, near Prairie City.
Rhodes Spanish Ravine Mine…another of the Thomas Rhodes(Rhoads)mines that provided the gold for the Salt Lake Mint—located in Placerville on Spanish Ravine…exact site being researched.
Rosecrans Quartz Lode named after it's owner, Mormon Battalion officer, George W. Rosecrans..located a mile and a half west of Garden Valley in El Dorado County.
Salmon Falls…settled by LDS…a favorite stopping place for the Apostles and missionaries in that day…located on the South Fork of the American River, several miles up from Mormon Island…presently under Folsom Lake.
Salmon Falls Cemetery…contains numerous LDS members…location being researched.
Salt Lake Trading Company…was a store established in 1850 by Captain Howard Egan, one of Brigham Young's bodyguards, located on the Merced River several miles upstream from present day Merced Falls.
Slapjack Bar…was heavily populated with a substantial number of "gold missionaries" in 1850. George Q. Cannon maintained a store here, which may have been a branch of the Salt Lake Trading Company…located on the Middle Fork of the American River in Placer County.
Sloughhouse (Dry Creek..Rhoads)..this was the area settled by Thomas Rhoads and his family in 1846. They actually discovered gold there in 1847 prior to the Mormon Battalion involvement in Coloma in January 1848, but they did not let the word out of their discovery, and mined it secretly. Thomas Rhoads took part of his family and went to Salt Lake in 1849,at the request of Brigham Young, and took a wagon load of gold which was used to start the Salt Lake Mint.located on the area between Dry Creek and the Consumnes River, about 11 miles southeast of Sacramento.
Sloughhouse Pioneer Cemetery..this cemetery contains many of the Rhoads family decendants. It is locked and is maintained by volunteer LDS people…located off Hiway 16 toward Rancho Murietta, taking off the Hiway at the Sloughhouse Inn and bearing left thru an intersection behind the Inn..DUP marker.
Sly Park….named after James Sly of the Mormon Battalion who camped there during the assembly period of June 1848. Presently the area occupied by Jenkinson's Lake (Sly Park Reservoir)….No Marker.
Weaverville (Weberville)..was the fisrt place of habitation after coming over the Sierras on the Mormon Trail. Numerous Mormons lived in the place. It was the mail terminus for the area. Thomas Rhoades and his son-in-law, William Daylor, had several mines here… located halfway between Placerville and Diamond Springs.
White Oak Flat (White Oak Spring)…numerous LDS resided here and the missionaries frequently visited here while in the area…was located just south of Salmon Falls.
Mormon Emigrant Trail…from Pleasant Valley to Carson Valley, Nevada. This was the trail blazed in 41 days as the first party of Mormon Battalion members in 1848 headed back to meet their families in the Valley of the Great Salt Lake.
49er Tree is located 15.0 miles up Mormon Emigrant Trail from Hiway 50 at Pollock Pines. This was the turning point to proceed to Hangtown or turn left to the Southern Mines. It had a blaze on the side with an arrow carved into it. The Son's of Utah Pioneers had built a fence around the base of the tree to protect it, but a few years ago the fence was knocked down and used as firewood to attempt to burn the tree down, and charred the blaze.
Camp Creek..located about 8 miles past the 49er tree. One of the camp spots while blazing the Mormon Emigrant Trail.
Leek Springs..The next camping spot on the Trail which is about 8 to 10 miles past Camp Creek. It was named because of the wild onion looking vegetation.
Tragedy Spring.. The burial place of the three scouts of the 1848 Mormon Battalion group traveling to the Valley of the Great Salt Lake after wintering in the Sacramento area. Ezra Allen, Daniel Browett, and Henderson Cox are buried here. It is located 4.6 miles east of the intersection of Hi way 88 and Mormon Emigrant Trail. The west entrance is at mile marker 62.7 and the east entrance is at mile maker 63.1. In 1967 the DUP built a rock monument and picnic area with picnic tables. It is a designated Forest Service picnic area.
Melissa Coray Peak Overlook.. The lookout area is on the south side of the road and is located at mile marker. 63.2. There is a bronze marker in a 4 ft. granite boulder which shows the mountain range, tells the story of the Trail and Melissa Coray and points out the Melissa Coray Peak. This was erected during the naming ceremony by the DUP and Oregon California Trail Association July 1994.
Melissa Coray Peak.is 9,763 feet high and is just south of Caples Lake and southeast of West Pass. It was named and dedicated in 1994 by DUP,SUP, and Oregon-California Trail Association. In 1998, the Priest and Laurels of the El Dorado 1 st Ward placed a 360 lb. granite marker on top of the peak.
Rock Creek..Located In. "Rock Valley" about 4 miles past Tragedy Spring. The blazers camped here July 21,1848. They camped here three days while 15 men worked the road the few miles to the top of the pass.
West Pass..This was the highest point crossed by any overland trail in the continental U.S., at an elevation of 9,550 feet. The workers found snow drifts 15 feet deep in late July. Henry Bigler notes in his journal that he was picking wild flowers with one hand and scooping up snow with the other. Possible monument in turnout area on the road running north of Caple's Lake.
Carson Pass (Summit Camp)., is at an elevation of 8,600 feet. Named after Kit Carson who passed through it in 1844 while acting as scout for John C. Fremont. He carved his name and the date in a tree trunk here. Forest Service marker and information booth. The Mormon Battalion group called it Summit Camp.
Devil's Ladder..the name later given to this area with sheer cliffs and sharp drop-offs. It is located just east of Carson Pass. They had to use block & tackle and chains & ropes wrapped around the trees to keep the wagons from tipping over while they lowered them in this spot. Some of the burn marks still existed as late as 1995, but lightning strikes have now taken the trees down below the burn marks. During the gold rush period of 1849 to 1851, journals indicate that there would be as many as 200 to 225 wagons waiting their turn at the bottom to be pulled up with double and triple teams. Thirty yards uphill to the South from this spot are initials and dates still in the granite rocks from the gold rush period aluminum markers in the trees in this area show the actual trail.
Hope Valley..This can be seen from Devil's Ladder looking past Red Lake. It was so named because the members of the Battalion said it was the first "hope" that they might actually get through the mountains. Highway down from Carson Pass runs through the center of the valley.
CARSON VALLEY AREA
Bower's Mansion is historic building still located in Washoe Valley. She was a Mormon and stayed on in the area when the others left in 1857. She and her husband, a non-mormon, were Nevada's first millionaires. The mansion is located just east of the freeway between Carson City and Reno.
Eagle Valley….was part of California in 1850…settled by LDS in 1850…Branch of the Church organized there in 1856 and abandoned in 1857 when saints were called back to defend Utah from Johnston's Army…now present day Carson City, Nevada, (state capitol).
Franktown…was part of California in 1850…settled by LDS in 1850…named after Frank Richard Bentley, the first male child bom there…abandoned in 1857 when saints were called back to defend Utah from Johnston's Army…located in Washoe Valley, just north of Eagle Valley, it was the home of Apostle Orson Hyde while he was judge and organizer in Carson County, Utah in 1855…it had a branch of the Church in 1856-57.
Gold Canyon…the first gold discovery site in Nevada, by Mormon Battalion member, Abner Blackburn and others. Gold also found there in 1850 by the LDS Orr family. Numerous LDS lived there until 1857, when they returned to defend Utah…located by descending to the Carson Canyon from Virginia City.
Jacks Valley…named after L DS John (Jack) Redding…home of the Carson Valley- Jacks Valley Ward in 1856-57..abandoned in 1857 when saints left to defend Utah…located just north of Mormon Station (Genoa).
Mormon Station (Genoa)…established by LDS in 1850..It was said to have been the first white inhabited site in Nevada, and became the county seat of Carson County, Utah..a prominent stop on the Gold Rush Trail and the Pony Express-restored and preserved as a historic site. DUP marker is located adjacent to flagpole at Mormon Station State Historical Monument(1949)..SUP marker located adjacent to flagpole at Mormon Station State Historical Monument(1991)…Rotary Club Pony Express marker is located at intersection of Hi way 207 & Hiway 206 in Genoa(1934).
DONNER LAKE AREA
Donner Memorial State Park and Emigrant Trail Museum…Lavina Murphy, a widow and baptized Mormon was part of the famous Donner Party. Thomas Rhoads and his family were part of this group as far as the Little Sandy River in Wyoming, but did not take the Hastings shortcut with the Donner's. The two Rhoades sons, John and Daniel led the rescue party to collect the survivors of the disaster. It is located on the east side of Hiway 89, about 3 miles north of intersection with 1-80 freeway.
Murphy Cabin Site…the cabin of Lavina Murphy and her family. The cabin was built adjacent to a large rock. Attached to the rock is a plaque with a list of those who survived and perished in the Donner party …located about 100 yards west of the Emigrant Trail Museum.
LOS ANGELES AREA
Wilmington Pioneer WagonTrain Seaport (Goosetown)…The seaport established by Brigham Young to ship and receive goods and people from Utah. This was the beginning of the current San Pedro Harbor. Monument by the DUP is erected on the site, which is located at Avalon Blvd. & Water St.(Harbor Freeway south, Anaheim off ramp, east to Avalon, south to small park at the end of the street which is Water St.
Biddy Mason Memorial…Biddy was a slave brought to Utah and then to San Bernardino by Robert Smith along with Hannah and their twelve children and grandchildren. Smith was planning on moving to Texas (a slave state) with them. A trial was held and Judge Benajmin Hayes declared all 14 slaves free. This may have been then first civil rights trial in the U.S., but certainly in the West. Biddy took the name of Mason, after Amasa "Mason" Lyman. She likely was never baptized. She worked as a mid-wife and became the richest woman in the Los Angeles area. She donated the property and money to start the AME (Amercian Methodist Evangelist Church) and spent the rest of her life financially helping needy people in the area. A wall monument to her is in a mall on the northwest corner of 6th St. and Flower St. in downtown Los Angeles.
Fort Moore Memorial.. Breaking News!  The Fort Moore Memorial is being restored and will be re-dedicated in 2018.  Watch here for updates.  
The Mormon Battalion built Ft. Moore when they were sent from San Diego to Los Angeles. They built the fort and erected a flagpole with wood from the San Gabriel Mountains. They raised the first U.S. flag in Los Angeles on a 4th of July celebration on July 4, 1847. The monument is a whole massive retaining wall 400 feet long. Dedicated July 3,1958. Located on Hill St. between Temple St. and Ord St. in downtown Los Angeles.
Fort Moore role in the Mexican–American War 
On August 13, 1846, early in the conflict, U.S. naval forces under Commodore Robert F. Stockton arrived at Los Angeles and raised the American flag without opposition. A small occupying force of 50 Marines, under Captain Archibald H. Gillespie, built a rudimentary barricade on what was then known as Fort Hill overlooking the small town.
Most of the fighting had ended with the signing of the Treaty of Cahuenga in January, 1847. During the war, battles with local "Californios" in Los Angeles had led the American army to begin building an earthen works fort on the hill overlooking the town. After an internal skirmish, the first fort was abandoned, but work started again in the spring of '47. The majority of the labor was done by the U.S. First Dragoons, New York Volunteers, and the Mormon Battalion, the lone religious military unit in American history.
READ MORE ABOUT FORT MOORE HISTORY
Mormon Canyon..Santa Susanna Mountains in San Fernando Valley
Mormon HiIl..South…San Fernando Valley
Mormon Island…San Pedro Bay in Los Angeles
ORANGE COUNTY
Addison Pratt Grave Site…Apostle Addison Pratt is buried in the Anaheim Cemetery, 1400 E. Sycamore St., Anaheim.
Mormon Battalion Monument-Sycamore Park, Lake Forest
SAN BERNARDINO AREA
Abbott Mountain..(now Cucamonga Peak)…located in San Gabriel Mts. was named after LDS pioneer, John Abbott.
Allen Peak…in the San Bernardino Mts. was named after Charles H. Allen
Asistencia…originally built in the 1830's by Spanish padres as an outpost of the San Gabriel Mission (still standing in the City of San Gabriel, east of Los Angeles). It was abandoned when the missions were secularized- It was part of the Lugo family's San Bernardino Rancho, where one of the Lugo sons, Jose del Carmen Lugo, had been living in it. Charles Rich lived in it during the early inhabiting of the Rancho by the Mormon colonists. Bishop Nathan Tenney lived here and had charge of the agricultural work south of the Santa Ana River. It was used as one of the first schools in the area. Henry and Lewis Cram moved into it in 1854. They started the first furniture factory in Southern California. California Registered Historical Landmark # 42. Marker is located in Redlands at 26930 Barton Road, west of Nevada St..
Blue Cut (Lower Narrows)..Mormon pioneer, John Brown, built a 12 mile toll road here in 1861. It later became the logical place for Old Highway 66 and the railroad in 1885. Construction of Interstate 15 has largely removed this once familiar landmark from the public eye. E. Clampus Vitus Marker placed in 1994 is located on old Route 66t 4 miles north of Devore.
Cajon Pass…is the pathway between the San Gabriel Mountains on the West and the San Bernardino Mountains on the East. The 1851 Mormon group came through the west part Member Fred. T. Perris developed the east Santa Fe Railroad pass in the East near where Jefferson Hunt and Addison Pratt's first group came through the pass. Interstate 15 is the North-South hiway through it now and Hiway 138 is the East-West Hiway in the pass.
Conference Tree..Located in the southwest corner of Sycamore Grove. This large tree is the site where the first conference was held to form the First LDS Stake in California..July 6, 1851.
Covington Mountain….located near Mojave, is named for LDS pioneer, William Berrill Covington Family.
Fort Benson..was the Benson home and was called Fort Benson when the San Bernardino colony broke in to two political factions. The people in this faction placed a cannon at the Benson home to defend it from the other faction, thus giving it the Fort Benson title. California Reg. Historical Landmark #617. Marker is located in Colton at 10600 Hunts Lane.
Hawes Peak..located in the San Bernardino Mts. is named after LDS pioneer Francis M. Haws/Hawes.
Heapes Peak…located in the San Bernardino Mts. is named after LDS pioneer William Heap.
Joshua Tree State Park…located in the Mojave Desert with large stands of Yucca cactus. It is fabled that the Mormon colonists on their way to San Bernardino called them Joshua as they thought it looked like Joshua with his arms raised showing his people the promised land. The name has stuck and been used ever since.
Keller Cliffs & Keller Peak..in the San Bernardino Mts. are named after LDS pioneer Carlin Keller.
Lytle Creek/Lytle Creek Canyon…in the area of Glen Helen Park and was the area where Andrew Lytle settled when arriving in the valley.
Miller Narrows…located in Lytle Creek, was named after John N. Miller whose father was George Miller of Nauvoo.
Mormon Battalion.. A monument to the Mormon Battalion is located at the entrance to Glen Helen Park.
Mormon Ave…in Yucca Valley
Mormon Camp… 1860 Death Valley
Mormon Camp.. 1857 Mojave River at Yermo
Mormon Camp…Summit Valley
Mormon Camp…1851 Victorville
Mormon Canyon…Kern River area of Greenhorn Mountains
Mormon Crossing..Victorville
Mormon Cut-Off..Victor Valley
Mormon Dairy…Norco
Mormon Diggings..Cajon Pass
Mormon Farm…Needles
Mormon Farm…Riverside
Mormon Fiat.Randsburg in the El Paso Mountains
Mormon Flat..Stallion Springs
Mormon Grist Mill….San Bernardino
Mormon Grocery..Mojave River at Daggett/Barstow
Mormon Gulch…Randsburg in the El Paso Mountains
Mormon Gulch…in the Tehachapi Pass east of Bakersfield.
Mormon Gulch…Death Valley
Mormon Kiln…in Cajon Canyon
Mormon Rocks, is a large massive white rock outcropping that is one of the dominant landmark features in the Cajon Pass area.
Mormon Sawmill..There were actually three sawmills. Mormon pioneer, David Seely and his brother had one, Apostle Amasa Lyman and his son had another, and the third was owned by Charles Crisman. A marker honoring David Seely is at Seely Flat, at the end of the Mormon Lumber Road, near Crestline north of Arrowhead. The plaque is mounted on a real saw blade.
Mormon Stockade…The site of the first house in San Bernardino, the home of Jose del Carmen Lugo. A stockade of logs was built as protection against the Indians. California Reg. Historical Landmark #44 Native Sons of the Golden West marker is located on the wall of the entrance to the San Bernardino County Courthouse, at Arrowhead Ave. and Court St.
Mormon Trail ..the new trail over Cajon Pass that was established by Banning wagon freighter, William T.B. Sanford It was a preferred route over the old 1849 route in the rocky stream bed of the East Cajon. The down slope at the top of the new route was still very steep, and they had to lower wagons down the descent For a distance of 50 feet or so the cattle and all slid down. California Reg. Historical Landmark # 577. Wagon Wheel Marker is located in West Cajon Canyon, 20 miles north of San Bernardino on Hiway 138,3.6 miles west of 1-15.
Old Fort San Bernardino…By November 1851 there was a threat of the Indians trying to drive the whites from the area. The saints drug their 100 log homes to form an enclosure to make the fort. Poles were sunk into the ground 3 feet and project 12 feet above ground on the corners. The fort was 300 feet by 720 feet. Additional homes were built inside the fort.
Old Mormon Lumber Road ((Mormon Road)..Built by 100 volunteer men in a period of 10 days (1000 man hours of donated labor). Used to bring lumber out of the mountains, which was used locally, but most of it being sent on to the Los Angeles area as a source of revenue for the Saints. The boards became known as "Mormon Banknotes."A monument to the men who built this road was erected in 1932 at the point where Highway 18 crosses the old road, some 200 yards west of the Crestline overpass. From here remains of the old 12 mile long road, can be seen, as a ghost path switch backing steeply upward toward the crest Marker located in Waterman Canyon, 0.5 miles west of Crestline on Hiway 18. Marker deedicated to pioneer women of 1852 by the women of 1832.
Perris, CA (Riverside County)…is named after Fred T. Perris, a Mormon convert from Australia, who came to the San Bernardino colony as a civil engineer. In working for the Sante Fe Railroad, he developed a route through the Cajon Pass to Los Angeles that caused a fare war with the Southern Pacific Railroad line that came from Kansas City to Los Angeles through San Francisco. Fares dropped from $150 to $10 causing the immigration to the area equal to the Gold Rush. Prior to this time San Bernardino was the economic center of the Southwest Los Angeles quickly surpassed it with the new route. The ingenious route is still used today through the difficult mountain passes.
Perris Hill, Perris Lake, Perris Dam and Lake Perris State Recreation Park Area..are named after Fred T. Perris.
Pioneer Cemetery, contains the grave sites of many of the LDS families. It is located at comer of 7th and Sierra Way in San Bernardino
Salt Lake & Sante Fe Trail… the remains of the Old Spanish Trail was the route followed by the Mormon colonists from Salt Lake City to San Bernardino. It was this trail that was used by the traffic back and forth to the Valley of the Great Salt Lake. One marker is located 17 miles north of San Bernardino, in the southeast comer of 1-15 and Hiway 138 erected in 1917. The second marker is located in northwest coner of 1-15 and Cleghorn Rd. erected by Pioneer Society of San Bernardino, 1912.
Salt Springs (OId Mormon Diggings)..located in the Amargosa Desert between Las Vegas and the Mojave River. It was here that Jefferson Hunt found gold when leading a large wagon train to California in 1849. Part of this group left the wagon train for what they thought would be a "short-cut". Most of them perished and gave "Death Valley" it's name. Proposed monument by a Redlands, CA. eagle scout for his project
San Bernardino Settlement..Brigham Young asked for a group of 50 to setde an area that could be used as stop-over spot for missionaries leaving from the Los Angeles route and for converts coming in to that area from the Pacific on their way to Utah. He was upset that 435 voluteered to go. The 35,000 acre Rancho San Bernardino, was purchased from the Antonio Maria Lugo family, Oct 1,1851 for the sum of $77,500. This became present day San Bernardino. Apostle Amasa M. Lyman was elected the first mayor. Daughter of Utah Pioneers Monument # 302 is located in the southwest comer of the Courthouse grounds.
Seagull Monument-located in the cemetery in the City of Bloomington, located off the 215 and 91 Freeway.
Stoddard Mountain, Stoddard Ridge, and Stoddard Valley, in Victor Valley were all named for LDS pioneer Sheldon Stoddard.
Sycamore Grove (Glen Helen Park)…was the camp site for the saints arriving to the area. A Mormon Pavallion has been given the Church and is being developed in the park at the present time. California Reg. Historical Landmark #573. Marker is located in Glen Helen Regional Park, 2555 Devore Road, 0.7 miles west of Devore.
Walk of Fame Monument—contains monuments to noted people or places in the area. Numerous LDS monuments here. Located at in Secombe Lake Regional Park at 5th St. and Sierra Ave. in San Bernardino.
SAN DIEGO AREA
Box Canyon-located in the Anza-Borrego Desert State Park on Highway S-2, 8.6 miles south of Hiway 78. The trail cuts can be viewed from an observation platform or be walked to. Interpretive signs explain their significance. The Battalion members, using hand tools, hewed a passage throught the rocky walls of this narrow gorge for their wagons and opened the first road into Southern California. The Butterfield Overland Mail Route ran through it Marker located at observation platform.
Brick Kiln…The Mormon Battalion built the first brick kiln in California, which they used to build the first court house, and line wells that they dug for the community. Plans are underway to rebuild a replica of this kiln in Old Town.
Butterfield Overland Mail Route-trail blazed by the Mormon Battalion and used by the Butterfield stages, 1858-1861. California Reg. Historical Landmark #647 is located in Blair Valley, Anza-Borrego Desert State Park, 0.5 miles north east of Hiway S-2 and 5.8 miles south of Highway 78.
David Smith Grave Site-This member of the Mormon Battalion died while garrisoning here in 1847. He grave was discovered recently in the courtyard of the San Luis Reyes Mission. Work is underway to get a headstone placed here.
Fort Rosecrans Cemetery Grave Monument., located on Cabrillo Memorial Drive on the ridge of Point Loma overlooking San Diego Harbor. A large 3 ft high white marble grave marker for Lydia Hunter and Albert Dunham is located in the east cemetery through the main entrance and left of the main monument about 50 feet in the center of the headstone area.
Fort Stockton…located at Old Town in Presidio Park on top of Presidio Hill. There are several markers at this location honoring the Mormon Battalion in addition to the 9 foot statue of the Mormon Battalion soldier sculpured by Edward Fraughton in 1969.
Mormon Battalion Marker..Temecula..A monument honoring the Mormon Battalion camping at this site was placed by the Temecula Stake in 1997.
Mormon Battalion Historic Site Visitor's Center…located at 2510 Juan St. in Old Town. It was dedicated Nov. 3,1972. There is a marker to the Mormon Battalion by the Daughters of Utah Pioneers #57 and a marker to the Women of the Mormon Battalion by the Daughters of Utah Pioneers #257.
Mormon Coal Mine.Point Loma area to be located and monument erected.
Mormon's House Stage stop on the Butterfield Stage route at Murrieta/Temecula
Old San Diego Court House.. A replica of the first brick building in California built by the Mormon Battalion in 1847 and first courthouse in San Diego. The replica is part of Old Town, San Diego.
Palm Springs.. A palm-studded desert resting place, 1826 to 1866, for Army of the West and Mormon Battalion and many other groups. California Reg. Historical Landmark #639. Marker is located in Anza-Borrego Desert State Park, on Vallecito Creek Road, 1.6 miles east of Hiway S-2,6.3 miles southeast of Agua Caliente Springs.
Palomar Mountain (Joseph Smith Mountain) …located southeast of Oceanside near Escondido was named by the Mormon Battalion in 1847. It was called Smith Mountain up until Palomar Observatory was built on it.
San Juan Capistrano..The park at this area is where the Mormon Battalion camped going Los Angeles Mar. 19-20,1847. (Coincidentally Swallow day at the mission).
San Luis Rey Mission.. Abandoned by the Mexicans, this was garrisoned by the Mormon Battalion after arriving in San Diego in January 1847, to make sure there was not counter-attack by the Mexicans. Marker is located at San Luis Rey Mission site on Highway 76, 4 miles east of Oceanside.
Sam Brannan Grave Site…located in Mount Hope Cemetery in San Diego. Enter from Imperial Blvd. just east of 1-15 freeway.
Warner Ranch..The Mormon Battalion camped here on the 44,322 acre Juan Jose Warner ranch and had their first meal after crossing the desert on their way to San Diego. They were refreshed by bathing in the hot springs. It was a stop on the Butterfield Stage run from Tipton, Missouri, to San Francisco in 1858, which was 2600 miles and took 24 days. California Reg. Historical Landmark #311. Marker is located near the intersection of Highways S-2 and Highway 79.
WILLIAM B. IDE GRAVESITE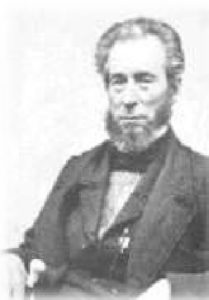 Ide died in Monroeville, in December 1852, at the age of 56, after an illness from smallpox that only disabled him from the duties of his office for about one week. As was the custom at that time, his cabin, containing his  body was burned down.  It is believed that his remains were place in the Monroeville Cemetery. In his short, seven year period in California, in addition to County Judge for Colusi Co. (by election and by appointment), he had officiated as Judge of Probate, County Treasurer, County surveyor, County Clerk, County Recorder and County Commissioner. The William B. Ide Adobe State Historic Park in Red Bluff stands as a memorial to his contribution to the area.
Although Monroeville itself no longer exists, the Monroeville Pioneer Cemetery, located about five miles south of Hamilton City off of state highway 45, is the presumed final resting place of William Brown Ide, the one and only President of the California Republic. Ide assumed this title during the very brief Bear Flag Revolt of 1846, at the beginning of the war with Mexico. On June 7, 2014, under the inspired leadership of Dave Freeman, new gravestones in honor of Ide were dedicated by S. Dennis Holland, President of the California Pioneer Heritage Foundation. A short documentary video, which includes scenes from the dedication, a summary of Ide's role in the Bear Flag Revolt, and the evidence that proves he and his family were the first known members of The Church of Jesus Christ of Latter-day Saints to enter California, can be found here:
https://www.findagrave.com/cemetery/2243964/monroeville-cemetery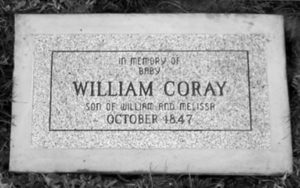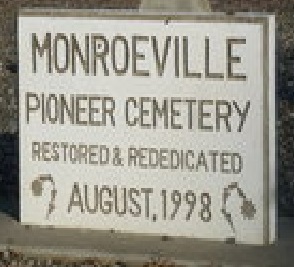 Drive about 5 miles south of Hamilton City on Rt. 45 until they see the Ide monument next to the road on the East side. Then drive slowly (no dust, please) .3 miles up the driveway toward and then right past the farmhouse, staying to the left after passing the farmhouse to get to the cemetery.
VIEW the "William B. Ide: Mormon" documentary.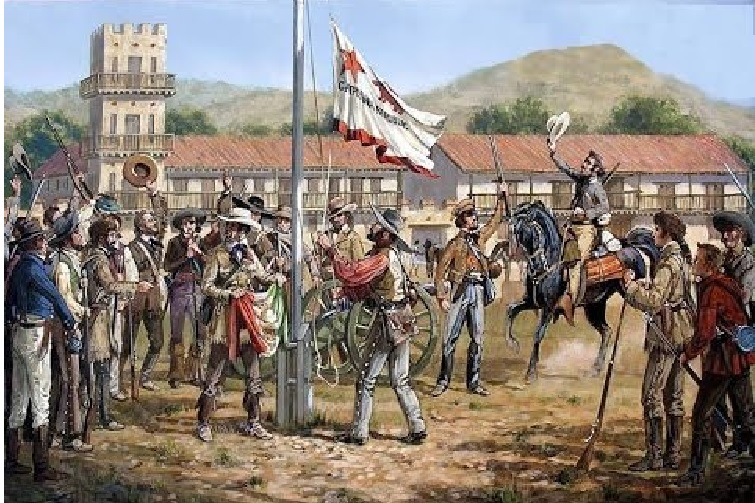 Hoisting the new Republic of California flag by the "Bear Flaggers"
See also: The Bear Flag Revolt under the Historic Events in the menu.